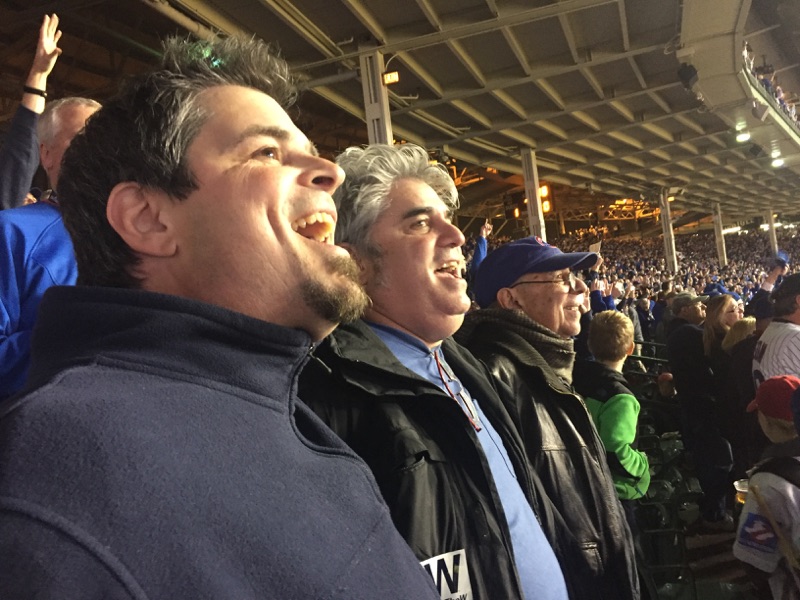 Curiosity can masquerade as a sneaky byproduct of procrastination. Inertia can then be intellectually rationalized.
I have not written about the baseball season of two years ago nearly as much as I wish I had. Sometimes I think that's holding me back from being truly present and productive. A life long deep-seated need to document all good experiences and capture them forever has met its match.
2016 is the greatest year in which I have ever been close to baseball.
That was a difficult sentence to phrase, because the feelings and experiences I desperately need to package and file away are about the year. The whole thing. And like a young hitter's progress, they're not necessarily linear.
For starters, I am not "in" baseball. I have been "around" baseball, and therefore "close to" baseball a great deal. I have spent time in the dugouts and press boxes of Fenway, Wrigley, Comiskey 2, Dodger, and several more.
I have seen games in all of those, plus old Yankee, old Shea, Baltimore's old Memorial Stadium, Milwaukee's old County Stadium, The Vet in Philly, and others….19 in all. I recently wrote about ballpark collecting.
Funny. Here I am, trying to write about 2016 in so completist and perfect a fashion that I have started with the history of my baseball everything. Such is the power of that season.
The history of my baseball everything begins with Dad. And he was part of 2016. It continued with brother Bob. And he was part of 2016. It is felt deeply in my son, and he was there. It is revitalized by my fiery Latina, and she was there.
The history of my baseball everything was dominated by a love of the Red Sox for my first 21 years, then control was wrestled slowly, achingly away via new long-lasting proximity to the intense character and history of the Chicago Cubs and White Sox. For 26 years I have worked here, lived with these teams, covered them, and felt the fans' roller coaster with as much sports empathy as I could muster.
The Red Sox finally broke their curse 12 years into my Chicago immersion, and I felt an odd, wistful distance from that title in 2004. 7 years later, the Red Sox' mastermind came to me.
Theo Epstein brought hope and credibility to Wrigley, and an inconceivable 5 years culminated with a title in 2016.
My baseball everything had found me and smacked me in the present, bringing levels of satisfaction, understanding, and access that will never be topped. I was on the field after the Cubs beat the Dodgers to go their first World Series since 1945. I went to 4 games of that Fall Classic as media, and 3 as a fan. I have stories of postgame interactions I can never tell.
It's not going to get better. I have to admit that.
This, I think, is my fear of the writing; that the writing will be letting it go.
But I have to trust that by writing it, I am doing the opposite of letting it go. I am strengthening the experience. I am setting myself up for the kind of legible refresher I'll need for however long I live. And this is me sharing stories that my son will need in order to truly know his dad. These are stories maybe you will someday need. They might be stories we need right now.
You've been there with me, as I've tried to write the truth.
I took you to Mesa, as the future started to take shape.
I took you to the playoffs, when they vanquished the cardinals in 2015.
I took you to "the big bed" in my home during the Giants series in 2016, when my son so obviously cemented himself as a Cubs fan that all I could do was lean back and grin.
I took you to Game 7.
So, where else have we not gone?
*******
It is early October.  My 83 year old gem of a father is texting me about his upcoming, long scheduled, visit. I tell him the Thursday night he'll be in Chicago happens to be game 3 of the world series. The NL lost the All Star Game, so if the Cubs get that far, the game will be here.
His response:  "OMG."  He's never been to a series game. I should know that, but do not.  I have a fixation to deliver from that moment on.
It is now the day of game 3.  It is the first WS game at Wrigley since 1945. It's a season overstuffed full of "1st time since…" stats and trends.  A 25-6 start by a team that hasn't won a title since 1908 will do that.
On the day of game 3, I wake and single-daddy my way through the morning, getting my 5 year old to school by 8 before catching a ride to Sluggers' in Wrigleyville for a live remote of the radio show.  We are 250 yards from the Wrigley marquee.  Since moving to Chicago in '92 I have spent time in Sluggers' to drink, eat, hit in the batting cages, live hard on NFL Sundays, and see friends like Dave Allen play Dueling Pianos in the upstairs bar.
This time we do "The Spiegel & Goff Show" in a mostly empty room for all 4 hours.  Rumors have the place charging 100 bucks just to get in, so people stay away. Other bars are pillaging the fans even more.  At 8:45 I am text-pestering Theo to walk across the street and join us.  He calls in right at the top of the 9 o'clock hour instead.  We talk to the mastermind on the day of the game.  That'll do, babe. That'll do.
It has been a 5 day odyssey since Dad texted "OMG," but I am closing in on 2 separate pairs of tickets to the game. A radio pal is helping me through a channel he will not disclose.  And the ticket guru himself has me on his short list of those deserving and ready to pay.  I am a very lucky man.
Brother Bob flies in during the show.  He is a destroyer of sports bucket lists these days.  The last 5 days he's been playing a tantalizing game of StubHub Chicken, and almost dropped 3 grand a piece for 3 tickets.  My press pass opens up my own options, but experientially I want to sit with them.  I preach patience to Bobby.  Patience, faith, positivity, with a touch of willful delusion.
Bobby arrives to the bar, with no luggage for his one day trip, and we converge at the end of the show to walk towards the ballpark.  The Ticket Guru has that beautiful grin he always seems to wear.  So many walking by the place know him.  Many know me.  My bro is feeling the electricity of proximity to the sport that I try to never take for granted. I am kvelling (Yiddish) at being able to share this with exactly the right person in my life.  He was the center fielder of his high school team, and I was the 8 year old batboy.  His team bus used to pick me up at elementary school for away games; I lined up batting helmets near the backstop like a champ.  The cherubic Ticket Guru hands us 2 magic World Series tickets I had hoped for but could not expect.
Our next scheduled rendezvous is around the corner by the Fire House.  The radio pal meets my bro.  They are very different men, but I know they'd get along.  We really should all hang out some time.  But not now.  He's working, and I have lots to do before game time.  We get our 2nd pair.
The quest for an elusive 2 has ended with us holding 4. Who will be my 4th?  At hat time I am in a fairly new but very powerful relationship.  She is a beautiful soul.  She's so very healthy, and calming to me.  She's incredibly sweet, pleasing to be with, and easy to talk to.  She has been a passionate, emotionally connected Cubs fan from her youth as a poor little girl in Bucktown.  Her father used to only be present in her life on Sundays, and he often took her, her sister, and 4 cousins to the Wrigley bleachers.  It is a special place for her, and we've had a couple amazing 2016 dates there together.
I call Christine at work, and say "I wanna ask you something.  Would you like to come to see the Cubs in the World Series with me tonight?"  She cries on the phone, at work, spontaneously, joyfully, freely.  She is the right person at the right moment.
There is personal chaos to manage in my afternoon.  I go home, walk the dog, get changed, pick up my son from school, Uber him through traffic crosstown to his mom's house, then ride a Divvy Bike from her house to Wrigleyville.  That last transportation detail is brilliance, if I don't say so my damn self.  Plus, it's incredibly fun to slowly roll into the eye of the storm.
I walk from the bike station on Irving Park to our agreed appointed spot: the Ron Santo statue.  It is an eternity to pass one block of Sheffield between Waveland and Addison; later we find out that the 5 busses blocking all pedestrians contain the Cubs' scouts and their families.  Theo takes care of the people that make his goals achievable.
I get there, and meet my father, brother, and girlfriend.  We take some of the most joyful pictures of our combined 232 years on the planet.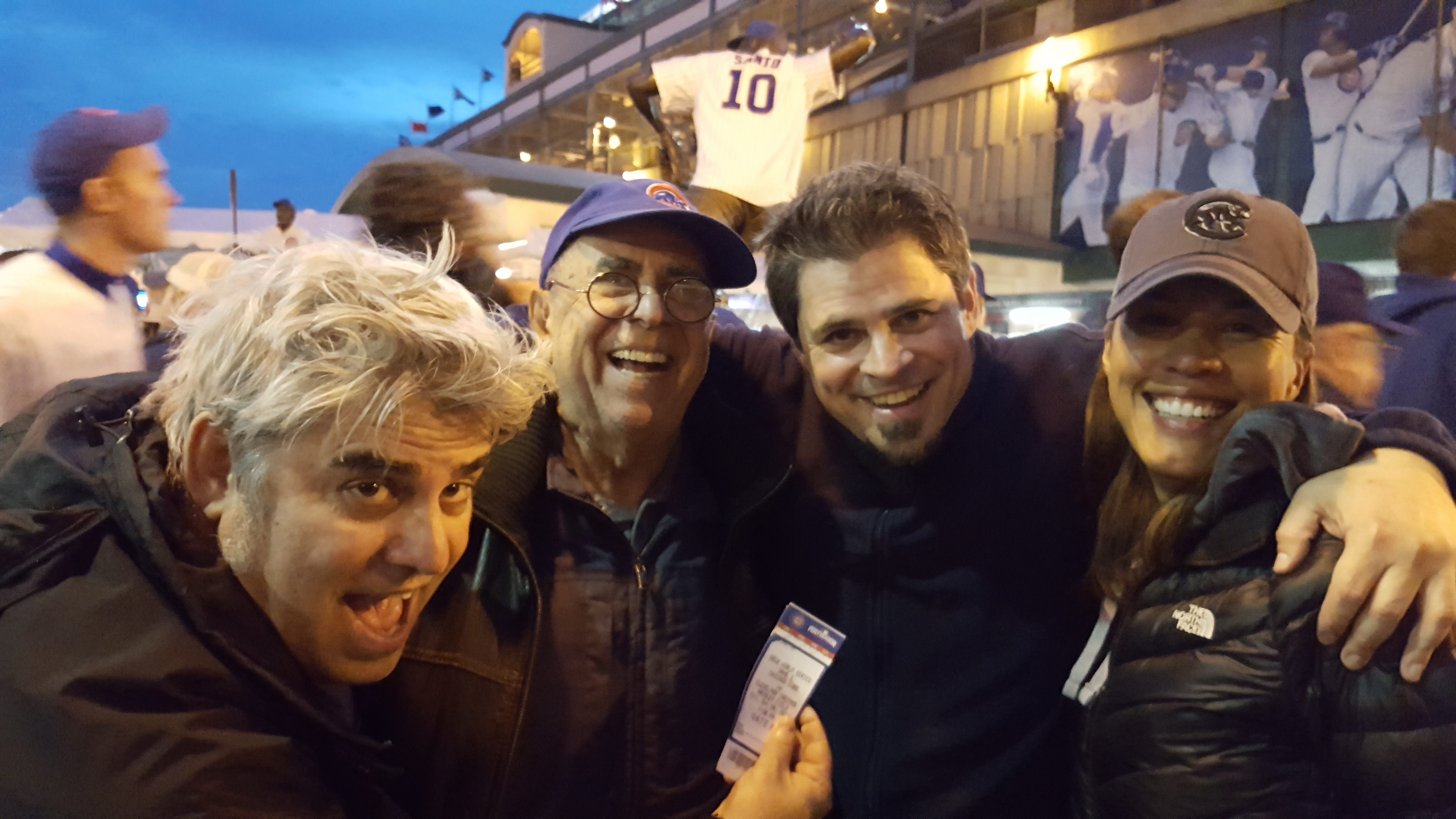 Bobby and Christine will start in one pair of seats; I get the honor and pleasure of escorting Herb Spiegel to his 1st ever World Series.  The man who taught me to love this game through joy and curiosity still feels it all with passion.  He has 2 fake hips and 2 fake knees, but he can get around.  I hold him close, arm in arm, as we make our way through the jam-packed ticket booth and ballpark concourse.  He did this very same thing for young Matt many times.  I'm struck so hard by the symmetry in getting to re-stir and replenish our emotional wells.  I have this opportunity to level the water.
We make it to our row.  He stands longer than I do, holding the seatback in front of him, staring out at gorgeous, hallowed Wrigley on the finest night it has seen to date.  The place feels perfect.  My pops is smiling like an eight year old, with his whole body, examining every inch of his surroundings.  I sit down, and cry very hard.  Gratitude.  Relief after the insanity of the day.  Pride that I've hit a professional place where this is possible.  Exhaustion from the steady tension of what we all do to hold our complicated lives together.  I cry so hard, and let it all go.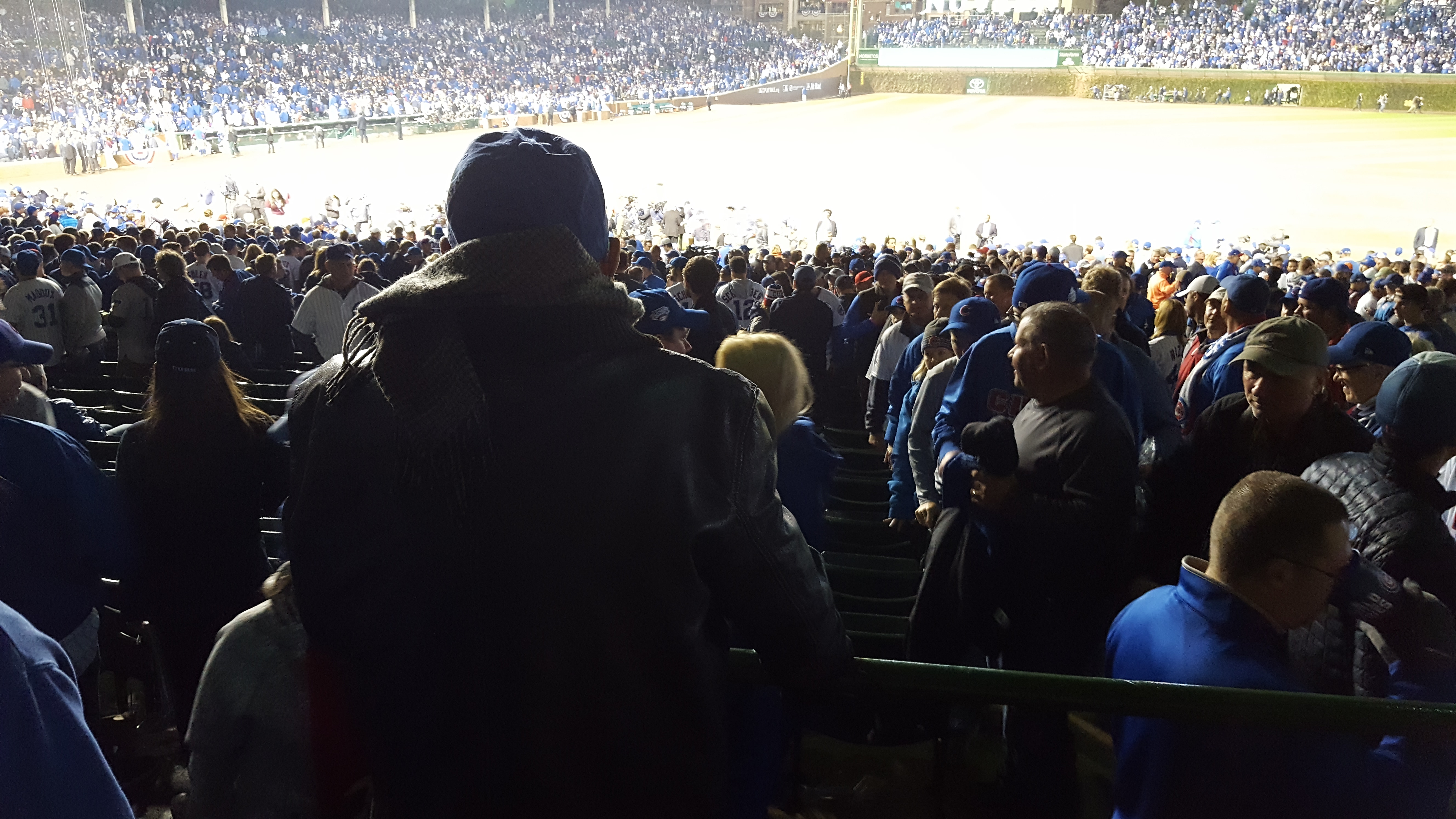 Let's stop pretending that the history of my baseball everything is going to get any better than that.
**********
Bobby bargains with ticketholders near him; two dudes come take the slightly better seats Dad and I start in, in exchange for their 2.  So our foursome spends 7 innings together.
The game happens.  Oh yeah, the game.  It is a 2-1 loss, and it was never more than a 1 run separation all night.  So every pitch from the first to last was tense, packed with the possibility of a game changer.
Leaving the park and the neighborhood is an adventure unto itself.  The city has over-prepared, and done so with very little concern for the physical limitations of the attendees.  Dad has to walk his 4 phony joints for 4 blocks down Clark Street before we can reach an Uber.  My girl Christine holds him arm in arm, using her strength, energy, and goodness to make his steps lighter.  She's a keeper.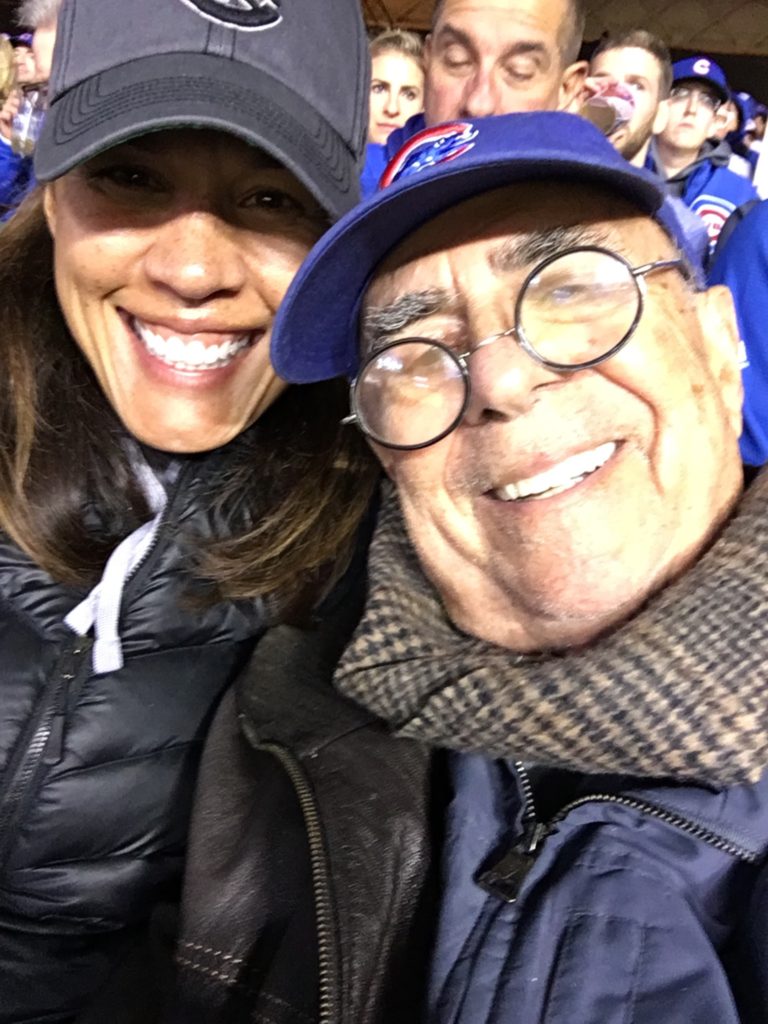 There will be more games, more personal stories, and certainly more drama in the history of my baseball everything.  But this is the night I will forever think about first.  It is the story that gets the most reaction when it is shared.  Emotions rule our cores.
The tricky thing about having access to events like this is making sure you choose your companions for reasons you will never regret.  The experiences inevitably become more about who you were with than what you did.
Even World Series games.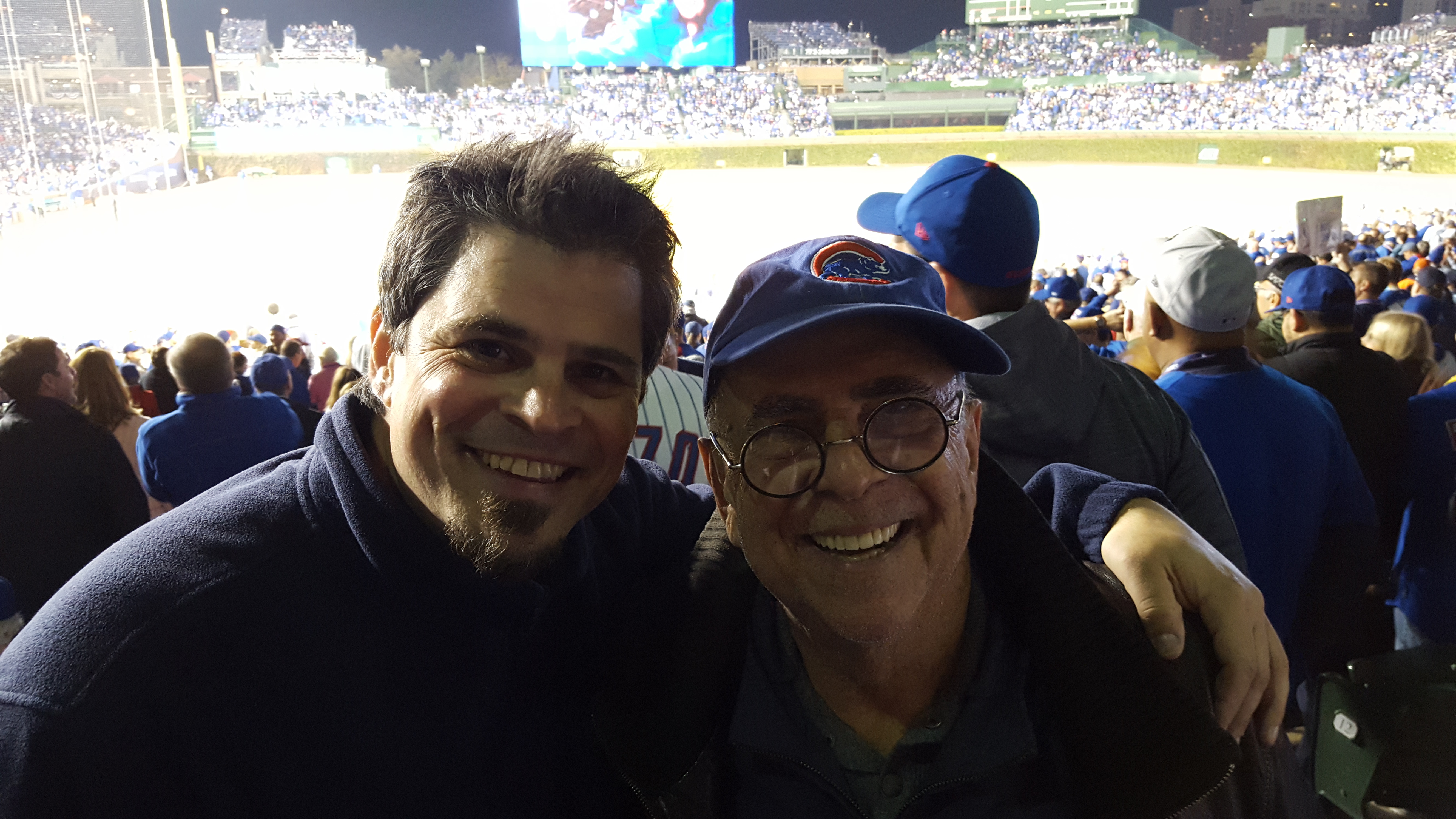 Tonight the Red Sox open the 2018 World Series at home against the Los Angeles Dodgers.  I'll watch on tv with my fiery Latina and the now 6 year old boy.  Then tomorrow morning, I'll drop him at school, drive to the airport and board a plane.  Pops will take a train from his home in Jersey to New York, and he and Bobby will drive up to Boston.  We'll meet up in late afternoon, and go to game 2 together.
For one day I join my big bro as a destroyer of sports bucket lists.  I will have no luggage for the one day trip.
Remember when I said that my baseball everything is never going to get better than 2016?
There's no reason not to try.