Dos Lobos: A Night at FitzGerald's Nightclub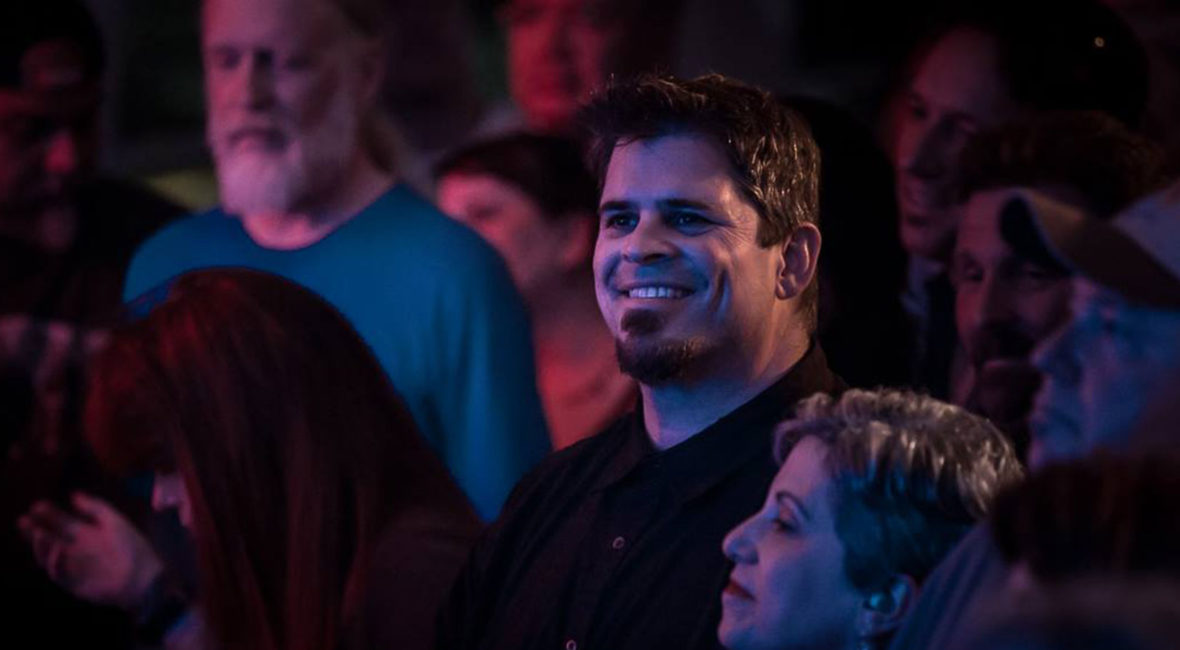 By Matt Spiegel
---
On playing at FitzGerald's, and then basking in fanboy happiness for Dos Lobos. FitzGerald's Nightclub
Tributosaurus became James Brown. I was talkin' loud and sayin' nothing. Like godfathers, we all fronted those tunes. The grooves were deep, explosive, simmering, bad-ass. The festival was funky as can be for our 90 minutes.
We finished; it was 2 hours to wait for Dos Lobos. But I had to.  David Hidalgo is a gem. What a beautiful, lyrical guitar player to see. To talk to. To be near. To introduce to his bandmates for the evening. We had a moment…smiling, approachable moment. He connected with me before anyone in the room, aside from the Cesar Rosas table at which he seemed to know everybody.
Hidalgo has that glimmer…that spark. That seeming knowledge of a spiritual, artistic secret…which lets him smile and calmly navigate his passions with skill. His avocation has become his vocation…and he's as thrilled with that fact as you would be.
As for David the player; He's got some of Garcia's steady meanderings, some of Gilmour's clarity, touch, and high register melodic tendencies. How is he with a bass player he's known for decades; and no other guitar? Or at least, a guitar under his aegis and control, fully, inarguably. I want to hear.  But this band he and Cesar picked up….these were our people, and they represented awesomely. John Abbey, Gerald Dowd, Chris Neville. The right guys for the job.
My pride in the Chicago music scene is large. It continues.
Gerald is the best. My 2nd favorite drummer in the city behind Tributo's Dan Leali, but they both would admit either of them can do absolutely anything. And anyone that plays with Gerald learns how comfortable he is. I happened to wear his "Day Of The Dowd" t-shirt for the first 5 hours of my alert daypart. Then greeted him as he arrived to the Fitzgerald's' green room, lovely wife in tow, to approach what would for many be the gig of a lifetime.
We have known Los Lobos since…"I Got Loaded" on the Bull Durham soundtrack? The whole How Will The Wolf Survive album in 1984. La Bamba in '87 pushed them higher.
And then Kiko; glorious, wondrous Kiko in '92. Mitchell Froom at the helm. Earnest, inventive, serene, beautifully produced Kiko. The textures of low woodwinds and melodica on the title track….haunting, spooky, somber, driving.
And "Dream In Blue." I yearned for that song all week as the fest approached, and had a chance to express that yearning to, in order, Chris, Gerald, Abbey, Bill Fitzgerald, and then to Hidalgo himself.
"It's one of the most beautiful things you've ever written."
I threw some fluid on that spark. No….that sounds wrong, um…I nudged the flint towards the match. Or something.
And "Dream In Blue" combusted…third tune of the set. For me: elation at hearing the groove as Gerald sets it up. Excitement for Abbey that he'd learned the part in the last hour…and more importantly he'd found the feel…the place to sit. The tune sat perfectly.
"Oh lo-ord. I can't believe it. Oh yea-ah. Almost see it…." Hidalgo's voice, at that perfect spot atop his chest voice. Just strained enough to have the right emotional power, but clear and strong as a bell.
What a set. After the show, talked some funk history with Cesar. He'd dug Tributosaurus as James Brown in the afternoon. And we quickly got talking Tower Of Power. San Fran, L.A. 60's into 70's. I guessed that he was into "Live and in Living Color." He calls bullshit.
"That's 1976 man….waaaay late." He counts the records; we sing a few song titles that come up along the way. "That's their 6th album!"
I learn something.
Cesar played with some of TOP (Emilio?) when he was 32. He raved about that experience with passion, fervor, and wisdom. I told him that what that gig was for him, a night like tonight was for Dowd/Abbey/Neville.
It is paid forward. Here's to those who keep at their avocations until they become vocations. The spirit of why we do the former will and should always trump the business of the latter.
I sit in with Dag Juhlin's brilliant Expo'76, as discussed but not as we'd planned. I'm not in the room and miss my chance for "Can't Hardly Wait," and then happily wave Dag off with a "who gives a shit, enjoy your life" kind of grinning nonchalance.
But I am apparently requested later…and found in the tent. "My Old School"…Dag has started it….but I grab a mic and go for the low melody. He jumps up. We are locked as Donald Fagen and for the duration.
It kills. Horns! Dag's guitar breakdowns are on point. The band's hits are tight as they oughta be.
Then later, "Ooh Ooh Child," where I sing along with la la la's, gang tackle the choruses and even add the soprano single note beds on the verse.
The outro comes…it is mine. Oh, it is delicious, and it shall be mine.
"You just a wait and see…how things are gonna be."
Right now.
BTW, Rahm Emmanuel loved this one. Or at least, that intro was when he happened to look our way during the NATO conference 4 years ago at the Navy Pier Grand Ballroom, and raised 2 thumbs up.
The more I picture it…the gesture seemed a little Nixonesque. Not two fingers of each hand, in that wagging peace/victory hybrid Nixon created, or at least perfected. But you could see it from there.
That Nixonian gesture reeked, from the very first time I was conscious of it. The video is intellectually paired with him saying "I am not a crook" in my head, and stands as a moving emblem of his ability to lie. His willingness to deceive, as many as it takes. He had the acting chops to fool most of those it took. Or at least the ability to take directions from extremely wise power brokers. Karl Rove, line 2.
But enough about Rahm.
Tonight was about me; in that our nights will always be about ourselves. I had a phenomenal night.
The soulful roadhouse in Berwyn has built a culture all its own. It is deep, evocative, and eclectic. The curious are always rewarded. The American Music Festival is always a success.
Again and again, please, as long as can be.