17 Seconds and 5 Years
I was there, 5 years ago last night, high above the "new" Boston Garden rink.  The very top level of the place is one single row of adjustable office chairs behind a small continuous table, circling all the way around.  You're way above the action, and good views are not guaranteed. I'd made a loop a few times throughout the game, talking with random media, watching from different angles, not knowing an all-time sports moment was imminent.
We had a lot going on that week.  The Mac and Spiegs show was broadcasting from a bar right there in the West End.  That morning, Doc Emrick had offered to grab me a Dunkin coffee as he waited to do a live interview with us.  He got the order right, of course, and shuffleboarded the beverage right to me.
Sometime that week, the jamokes who hosted our brother/rival radio show on WEEI had sent us an erotic cake to "welcome" us to town.  All class, that Mutt and Merloni. No wonder that station went in the shitter.
I was back in old college stomping grounds, and had made time for a predictably spiritual visit to the Boston Public Garden, one of my most beloved spots on Earth.
Oh, and the Chicago Blackhawks were in a serious fight with the Boston Bruins to try and win a 2nd Stanley Cup in 3 seasons.  You remember they won, and how.  But do you remember:
How Andrew Shaw screamed "I Love Shin Pads" after his triple OT deflection game 1 winner?
What a dirty, mean, admirable bastard Milan Lucic was all series?
The unrivaled maddening tension when three of the first four games went to Overtime?
How much Tuukka Rask really did look like a young Erin Moran in the role of Joanie Cunningham on Happy Days?
How Patrice Bergeron showed us he absolutely deserved to be mentioned along with Jonathan Toews as a great two way center?
How Corey Crawford allowed FIVE, count them, FIVE goals to the glove side in game 4?  And how Pat Foley admitted on our show that the whole league had known it was a weakness?
How ridiculously tall, scary, and solid Zeno "Lurch" Chara was?  No one could topple Big Bird in yellow.
How Joel Quenneville finally, after I and so many others had been pleading for weeks, Put Patrick Kane and Toews together with Bryan Bickell on the top line?  And how immediately it worked, with 2 Kane goals in game 5?
Maybe you remember all of that.  I sure do.  It was a hell of a series, well before what happened in the final 1:16 of Game Six.
There are amazing stories from fans as to where they were for those 2 Blackhawks goals.  Hell, they made a whole movie about those 17 Seconds, full of great inside stuff.
For me, what will linger forever is the sound and energy at the top of that building.
The Boston crowd had been explosive all night, and was frantically on its feet trying to carry their team to a deciding game 7.  The juju would have belonged to the Bruins, with insane pressure on the Hawks.  The loudness and intensity ratcheted up higher when Crawford was pulled for an extra attacker.  Then, immediately, Kane leads a charge into the corner, and Toews gets it to an open Bickell to tie the game.
The volume shifts from frenzied Bruins fans, to the thrilled smaller Hawks contingent.  There's still a buzz, but it's an odd one. And as the surprise wears off, it gets quieter.
17 seconds later, it's Dave Bolland, on a rebound.  That small Hawks contingent is losing their minds.  But the dominant vibe in the building is shock.  Shocked silence, in the faces of the fans.  Media who had seemed so jaded hours before ("Lobster, again?!?" I'd overheard near the pre-game dinner spread) now sat with mouths agape.
Watch the whole sequence again, because what better way could you possibly spend 2:05 of your time?
I thought Sports Illustrated used the picture of the year on their cover days later.  See the puck?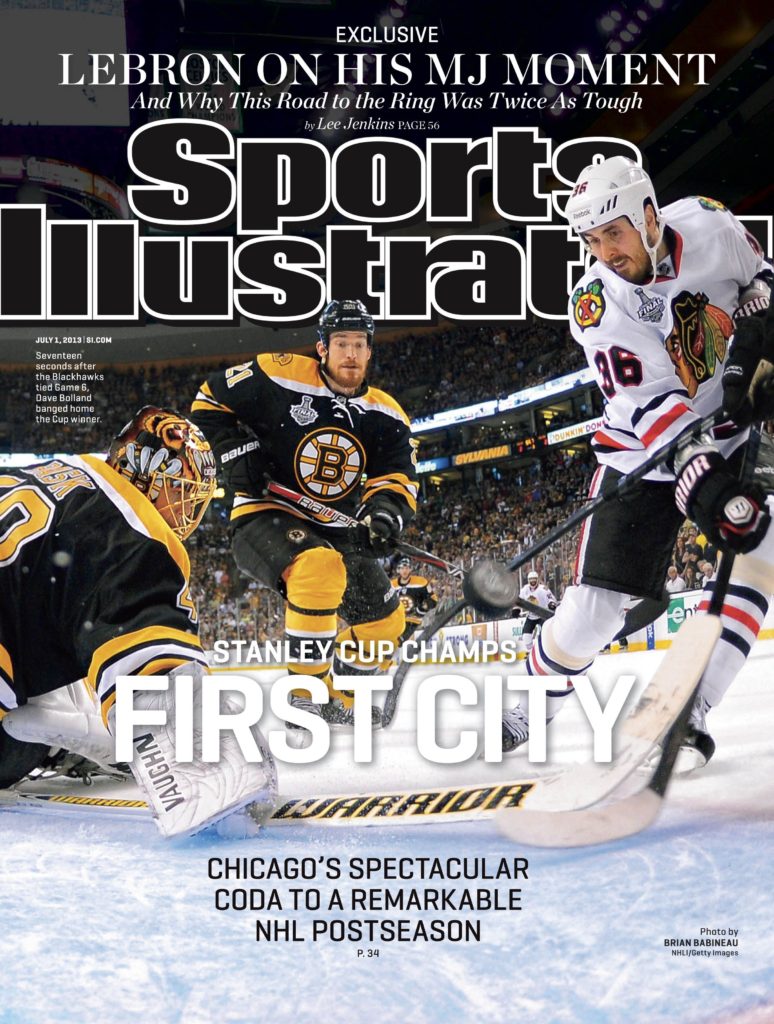 Let me tell you, the collective shock lasted for a long, long time.  I don't remember moving much.  I remember seeing lots of fans stuck to their chairs, begrudgingly watching the Hawks celebrate.
I captured the rafters view of The Captain delivering another cup to his mates.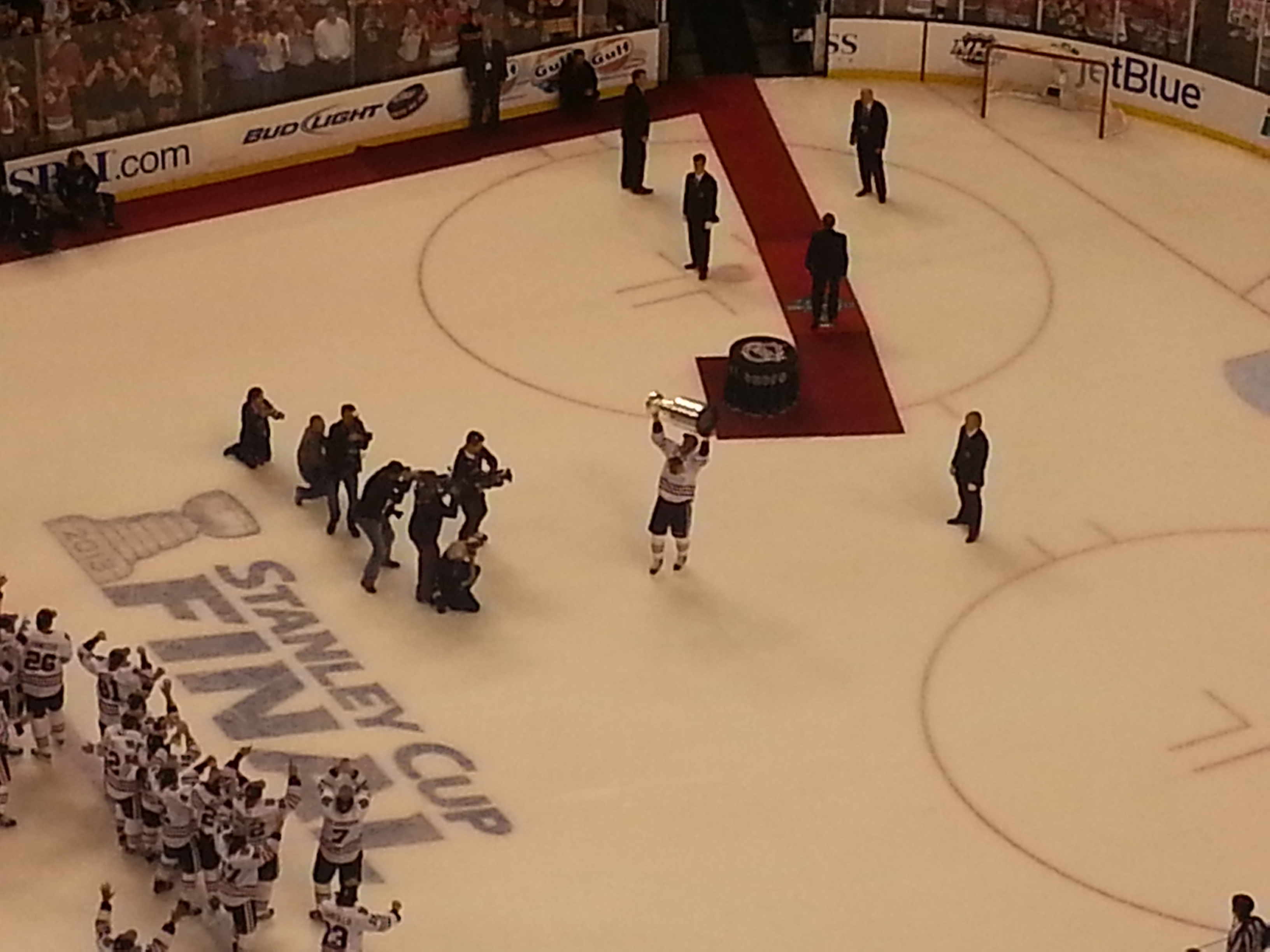 And then somehow, we were downstairs, and on the ice. Again.
I had been there in Philly in 2011, and I'd felt awkward, out of place.  I'd always liked hockey, and had grown slowly more knowledgeable as we covered that run.  But that was Mac's dream, Mac's moment…to be there with the franchise he'd loved forever.  I was mentally lost somewhere between acting professional, pretending I belonged, and trying to support him.
But now in 2013 with my name on the radio show officially, comfort with hockey conversation raised, and my place among the media more secure, I enjoyed the hell out of that special access.  Barry Rozner and I compared Cup runs, and made fun of a few fools.  I congratulated Rocky Wirtz, John McDonough, and Jay Blunk.  I took pictures for posterity both personal and professional.  The player I'd grown to enjoy the most, despite and maybe because of his tenuous hold on self control, was bloodied but beaming.  I snapped a selfie.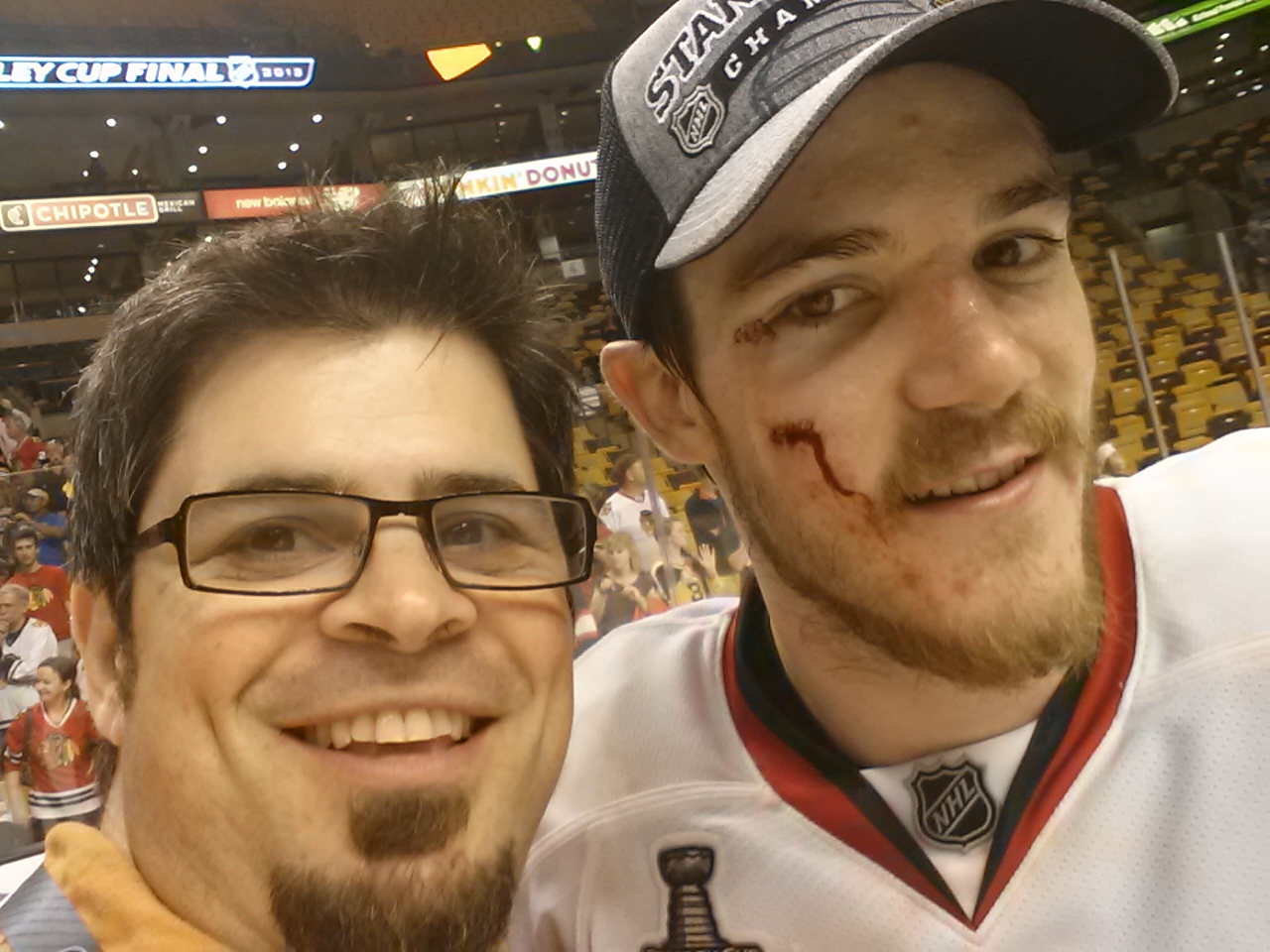 And I looked around for a keepsake.
The benches were full of people. The penalty box was locked.  But in the distance, one of the goals stood off to the side along the boards.  I made my way there.  On top of the net was a water bottle, and 2 long weird plastic tube-looking things that I could not identify.  They seemed interesting, and were bright Bruin yellow.  Each one fit into a deep pants pocket.
Yes, it's stealing.  No, I don't feel bad; I never did.  It was the last game of the year, pro sports teams and leagues make plenty of money, and I was gaining both a memento and what I figured would be great show content.  It was a rationalization that made sense to me then, and still does now.  Judge me as you wish.
As we broadcast the show the next day, the yellow tubes sat on the table.  A listener snapped this.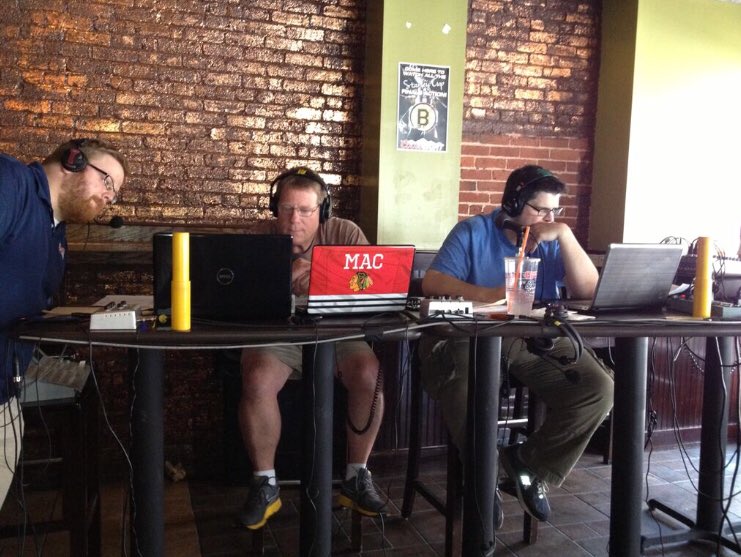 With Google power, we learned they were Marsh Pegs.
The goal no longer gets knocked "off of its moorings."  Fred Marsh changed the game for the better, made it safer, and made a few bucks from almost every hockey arena in the world along the way.
"After looking at what was available and not being satisfied with anything on the market at the time, Fred began working on a better system.  Thus he developed the Marsh Flexible Goal Peg, a deceptively simple but amazingly effective system.  The design and material of the Marsh Pegs give them a flexibility that allows the net to move when jostled but remain on the pegs during regular play.  The pegs will bend when the net is bumped, then return to their original position.  Upon strong impact, such as a player crashing into the net, the net will pop off the pegs and prevent injury to the player.  The nets can be replaced in seconds."
A week or so later, we did a delightful phoner with Fred Marsh, and he didn't judge me for stealing 2 of his yellow ones from Boston.  Or at least he didn't say so.
We came home, with the Pegs now explained and excitedly in the studio for the first shows back in Chicago.  The parade was tomorrow, and I had the day scheduled off.  So I left it in the show's hands, for sub host Ben Finfer and Mac to have in front of them at the parade.  What a conversation piece for the live audience.
But tech issues forced them back in studio, and when I returned the next day, my Marsh Peg was gone.
What I'd stolen had been stolen!  Oh, the injustice or cruel irony or deserved "hot crime on crime action," depending on your perspective!  Oh, the genuine anger I felt as I thought Finfer actually pilfered the thing and wouldn't tell me!  Oh, the misery that crept in as I imagined a clueless cleaning crew throwing it in the trash!  Oh, the Ebay hunt I went on, as I wondered whether Les Grobstein would try and sell it along with some old media guides!
Oh, the ancient Score mystery that went unsolved.  Until now.
More on that in a later post, promise.  I'll tell my own story here.  That story has a placebo Marsh Peg that became more meaningful than the original could have been.  That story has a perpetrator, whose life has evolved since then. And that story has a happy ending.
Maybe there's even a moral.
In those magical 17 seconds, 5 years ago last night, are layers of meaning.  There's a hockey team and storied franchise performing at its very best. There's my absurd personal good fortune to be in the building and on the ice afterwards.  And there is our often misplaced value of memory versus memento.
The feelings of that crazy finish on June 24th, 2013 were the thing.  And if you can hold onto those, not much else matters.